Reversing Brexit now would be divisive and undemocratic: it would destroy the trust of the British people
Say what??? Allowing the British people another vote would be undemocratic? Where do these idiot politicians come from?
This is an article by Suella Fernandes, the Conservative MP for Fareham who campaigned for Leave. And from the look of her, a Theresa wannabee.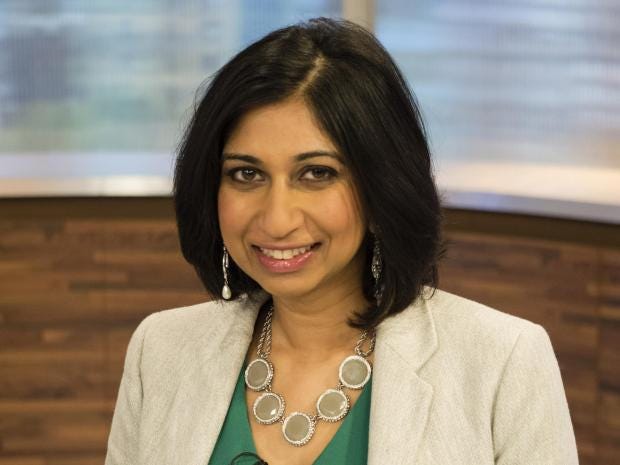 When British voters voted 52 per cent to 48 per cent to leave the EU I was delighted. It had been a long and sometimes gruelling campaign but at the end of it I thought the British people had made the right choice. If however, the British people had voted to remain, we would have remained in the EU and I would have respected the democratic will of the people. However, we voted to leave and the electorate's decision is final.
And her majesty is of the opinion that once a decision has been taken, it can never, ever, be reversed, because people are incapable of changing their minds.
While polls show that a large majority of the country, both former Leave and Remain voters, wish to respect the vote I accept that a minority remain bitterly disappointed. Unfortunately, amongst this group there are those who wish to frustrate the Brexit process, via the courts, the media and in Parliament. Among the myriad of amendments to the current European Union (Withdrawal) Bill, Liberal Democrat MPs are seeking a second EU referendum to reverse the first and stay in the European Union. This is a misguided and deeply divisive plan. Misguided because it misunderstands the EU and our EU partners and divisive because it democratically pitting MPs against the electorate.
To start with, polls don't show vast support for Brexit, quite the reverse. I'm a British citizen and I don't respect the idiotic vote to leave. The real dividers are the rampant Brexiteers, who have no respect for democracy, history, or the ideals of the European Union.
There is no sign that the British people have changed their minds. Voters were subjected to threats of recession, WWIII and even the end of civilisation. Yet they still decided that, despite all that was said, they wished for our Parliament to make our own laws. The truth is the electorate were perfectly qualified and made a clear and informed choice. We have a great opportunity to use Brexit to do things better. Holding a divisive, expensive and ultimately pointless second referendum is an idea that should be consigned to the political dustbin.
There is every sign that some people have changed their minds. A referendum is a lousy way of running a democracy. I am not surprised that a rabid Brexiteer is afraid of another one that would thwart her desires. Heaven forfend the British people get another chance at the polls. They might disagree with her, and they should never, ever, get that chance.