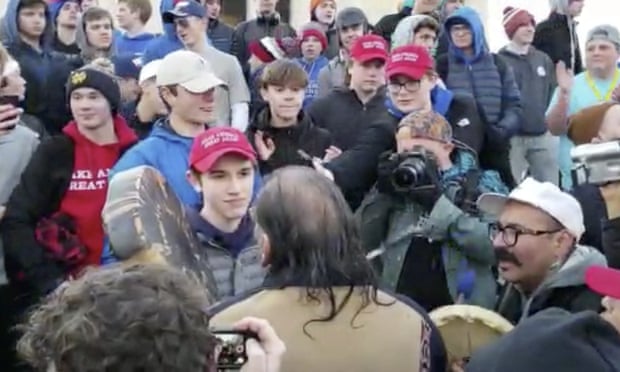 Outcry after Kentucky students in Maga hats mock Native American veteran
Nathan Phillips is a Native American Vietnam War veteran who holds an annual memorial at Arlington National Cemetery in Washington DC to honour Native American veterans.
This year, he bumped into Catholic students from private, all-male Covington Catholic High School in Park Hills, Kentucky, in DC for an anti-abortion march, wearing Donald Trump's MAGA hats – evidently designed to make America less than great again – and who mocked Mr Phillips and harassed him.
The footage was shared online by organizers of an indigenous peoples' march that also took place on Friday.
In a joint statement, the high school and Diocese of Covington condemned the actions of the students "towards Nathan Phillips specifically, and Native Americans in general".


"We extend our deepest apologies to Mr. Phillips," the statement read. "This behavior is opposed to the Church's teachings on the dignity and respect of the human person."


"The matter is being investigated and we will take appropriate action, up to an(d) including expulsion."
That's all very well after the fact. But what the fuck was this Catholic school teaching its students to make them think this misbehaviour was appropriate in the first place? This isn't a freak incident. That odious Catholic punk standing in Mr. Phillip's personal space was a prat, but no doubt a loyal altar boy. He got his nasty ideas from his Catholic school, given that the other school students were being almost as obnoxious. There is Catholicism for you – a real bunch of nasties.
Trump's vision of America is precisely this one. A place full of hate. Pity the Catholic church agrees with him.
Addemdum: I was raised a Catholic, though was never an altar boy. I grew up into an atheist. I was never sexually molested by priests. Nor did I ever see any evidence of molestation. I guess I was lucky. But these evil Catholic students are the modern product of Catholicism. That religion is responsible for the hatred it creates.