God, that's rich. The church that protects clerical paedophiles outraged by by being called out as hypocrites. Jeez.
BBC boss to meet church leaders over 'offensive' film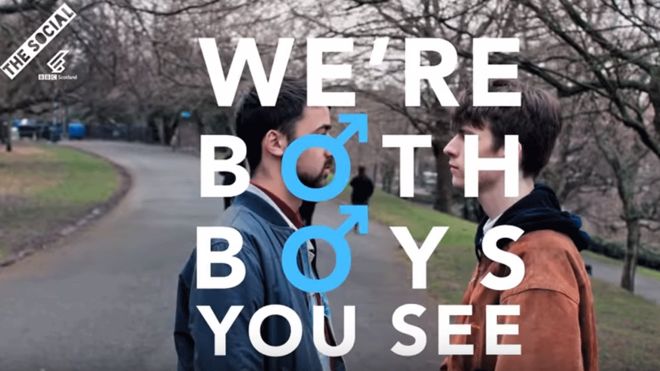 Catholic Church leaders are to meet the head of BBC Scotland Donalda MacKinnon to discuss their concerns over a digital film about being gay in 2018.

The piece, published on digital content stream The Social, included a clip saying the communion host "tastes like cardboard and smells like hate".

Bishop of Paisley John Keenan said that was "deeply insulting and offensive".

BBC Scotland has defended the film but regretted that some church members found it offensive.
What offended the good bishops was the segment in the film The Time for Love on religiously sanctioned homophobia. All people in this film are actors, but the sight below of religious believers attacking gay people is not uncommon.
This article (from 26 April 2018) was well buried on the BBC website. Had to do a lot of excavating to find it. I came across a reference to this through the Pink News website.
What is actually offensive is the attitude of many religions, including Catholicism, towards gay people. As I've mentioned before, I was born into a Catholic family and raised a Catholic, and since a teenager have never darkened the doorway of any Catholic church. I abhor the institution. As the film implies – it does not single out Catholicism, by the way – a lot of allegedly Christian churches, including the Catholic one, do reek of prejudice, hypocrisy and hatred.
This isn't Catholic or Christian bashing. It's exposure of religious hypocrisy and absence of Christian charity by institutions quick to condemn those they disagree with, but slow to admit their own shortcomings.
I'm glad the bishops were insulted and offended by the film. They deserve to be for the lack of shame they feel about their behaviour towards gay people. They are still living in the dark ages, expecting special consideration for the voodoo they preach. And well done BBC for showing it.