Scientists see first confirmed extra-solar meteor going through solar system. Way cool!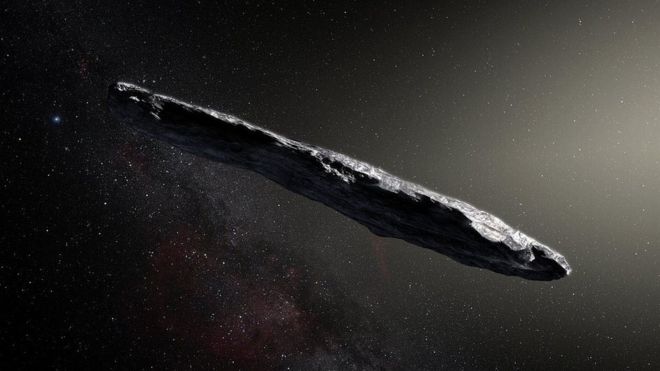 BBC: Bizarre shape of interstellar asteroid
The strange, long, red rock has been wandering between the Milky Way for hundreds of million years, failing to become attached to any star system. It then flew through our own, letting scientists have a look at the first alien, interstellar object they've ever seen.

"For decades we've theorized that such interstellar objects are out there, and now – for the first time – we have direct evidence they exist," said Thomas Zurbuchen, associate administrator for NASA's Science Mission Directorate in Washington. "This history-making discovery is opening a new window to study formation of solar systems beyond our own."
One of the strange things about it is that it is long and roughly cylindrical.
Observations using different telescopes showed that the asteroid's brightness varied dramatically by a factor of 10 as it span on its axis every 7.3 hours.

"This unusually large variation in brightness means that the object is highly elongated: about 10 times as long as it is wide, with a complex, convoluted shape," said Dr Meech.
It was discovered by a telescope in Hawaii used to monitor near earth moving objects, and named Oumuamua.