Macron calls for 'real' European army at start of war centenary tour
Today, November 11, is Remembrance Day, commemorating the end of European hostilities in World War I. So it is interesting Macron brings this up now – well, it was on Nov 6th, the day this story was published in The Guardian and elsewhere.
I must admit, I'd never really thought about this before. Well, I don't pretend to be a military or political strategist, just a frustrated citizen and voter. What is interesting is the reason Macron supplied:
Emmanuel Macron has used the first world war armistice centenary commemorations to call for a "real" European army, warning that rising nationalism and populism threaten the fragile peace on the continent.

"We have to protect ourselves with respect to China, Russia and even the United States of America," Macron said as he visited the sites of the western front battlefields in northern France on Tuesday.
It looks as though Trump's erratic posturing is preying on the French president's mind as well. America under Trump is an uncertain, perhaps even unreliable ally, so the question is, is NATO worth the weight of letters in its name? Has its time finally passed, now the Cold War has been over by a couple of decades following the collapse of the USSR?
Trump, of course, resorted to blustering that this was an insult to the US, and complained again that most NATO allies were not ponying up the 2% of GDP supposed to be devoted to the military by NATO members. Macron in turn has just attempted to soothe Trump's ruffled feathers, but there's no doubt about the question on Macron' mind: can Trump's America be trusted?
The answer seems to be: no, it can't. It is not possible to predict where the winds of whim will blow Trump next, but he sees himself – or would like to if only the "fake news" would stop publishing the truth about him – as an autocratic strongman leader in the mould of Putin or Kim Jong-un. They are the world leaders he most admires, because they have complete authority over their countries. That's not an ally any democracy can depend on.
So is a European supra-national army the answer? It's a bold idea, and a potentially logical outcome of the increasing political union of European nations. Unfortunately for that idea, whose time may not have come, it's not clear to what extent European unity is currently growing, given the resurgence of petty nationalisms in a number of European states that have lurched recently to the right, and even the far right.
A September article by the BBC illustrates the problem:
Europe and nationalism: A country-by-country guide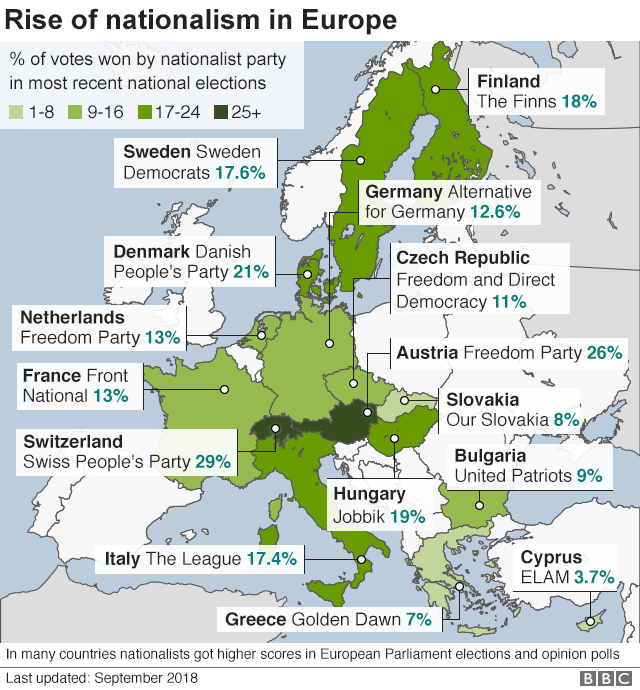 Other countries such as Poland have also lurched towards the far right. These are the current EU nations:
The UK, of course, under May's misgovernment, is trying to drop off the map altogether. Can this disparate bunch actually form a supra-national army at this point? I really doubt it. There isn't even a question of whether a supra-national army is a good idea; it's a stillborn one. It's not going to happen any time soon, not where so many countries are showing nationalistic tendencies and a resentment of foreigners, and even of racial or social minorities within their own boundaries.
So we are stuck with the status quo of NATO, shaky though that alliance has become thanks to Trump, who is too much of a wuss to get driven 50 miles to commemorate the 100th anniversary of the ending of World War I, because it's raining and his helicopter can't fly. Some ally that. Maybe someone should grab him by his pussy to see how he likes it, dickless wonder that he is.
The strongest statement about EU unity Britain could make at this point would be to allow its citizens the final say over May's Brexit disaster. It's not that any British government in the foreseeable future, in the EU or out, would agree to participate in a pan-European army. Britain and France aren't going to allow their nukes, for example. to come under European control under any circumstances. Not even Macron is as selfless as that. But given that a united Europe is in the Europeans' best interests – we also celebrate 73 years of pan-European peace (the odd regional conflict especially in the former Yugoslavia aside)  following the end of World War II, an unprecedented period of stability made possible only by the beginnings of the modern EU in the shape of the European Coal and Steel community – the UK should put its own petty nationalistic impulses aside and get with the program.
Not that I have any confidence in the ability of either the British government or opposition to formulate any coherent foreign policy at this point.